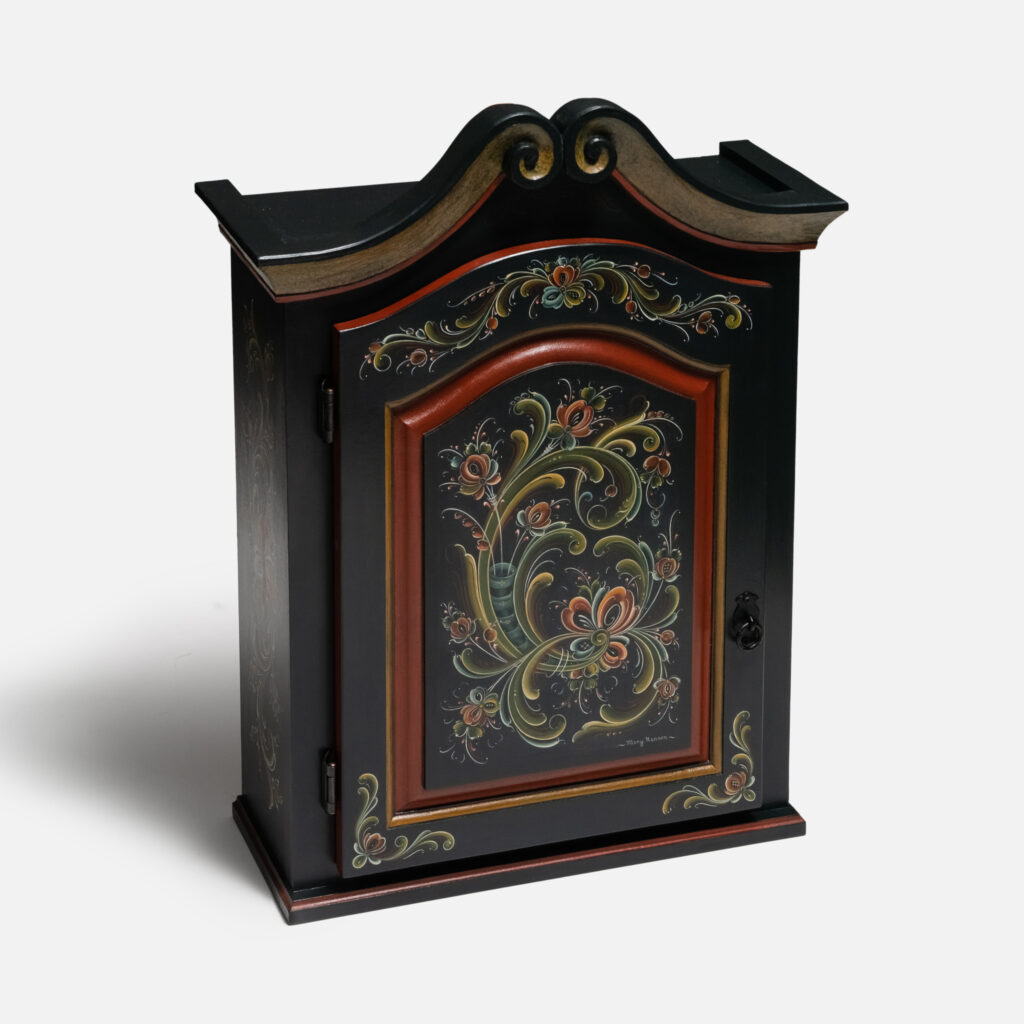 Mary Hanson
Gold Medal In: Rosemaling, 2022
Life Dates

Born 1947, Eau Claire, Wisconsin

Occupation

Retired Teacher

Residence at Time of Award

Dousman, Wisconsin
Ribbons
2018 Blue ribbon for a Telemark-style cake tine
2019 Blue ribbon for a Telemark-­style Norwegian krasekakeboks
2022 Blue ribbon for a "Fall" Telemark-­style cabinet
2022 White ribbon for a "Summer" Telemark-style cabinet
Artist Statement
I grew up in Eau Claire, a small town in northern Wisconsin, over three-quarters of a century ago. I was immersed in the Norwegian culture – ate Norwegian food, attended a Norwegian Lutheran church, and was introduced to rosemaling at a very early age. When I left Eau Claire to teach in Milwaukee, I realized how unique my Norwegian heritage really was.
In 1986, I started taking rosemaling classes with Nancy Schmidt. Since then I have taken many classes from her as well as from several other Vesterheim Gold Medal rosemalers. My journey as a rosemaler is in part God given and in part a longing for where I came from and the people I have loved. Rosemaling is just a part of me.
In 1998, my daughter was in a car accident and I couldn't paint for a long time. It was after her accident that I realized how important our passions are because I had lost mine during that time. Our passions are our true gifts from God. They are what lights our fires and keeps our hearts beating. So whatever your passion is, cherish and develop it and share it with others. It's our passions that connect us with each other.
I hope my rosemaling inspires people to pursue their passions no matter what their age or circumstance. This is the message I hope that my rosemaling conveys.