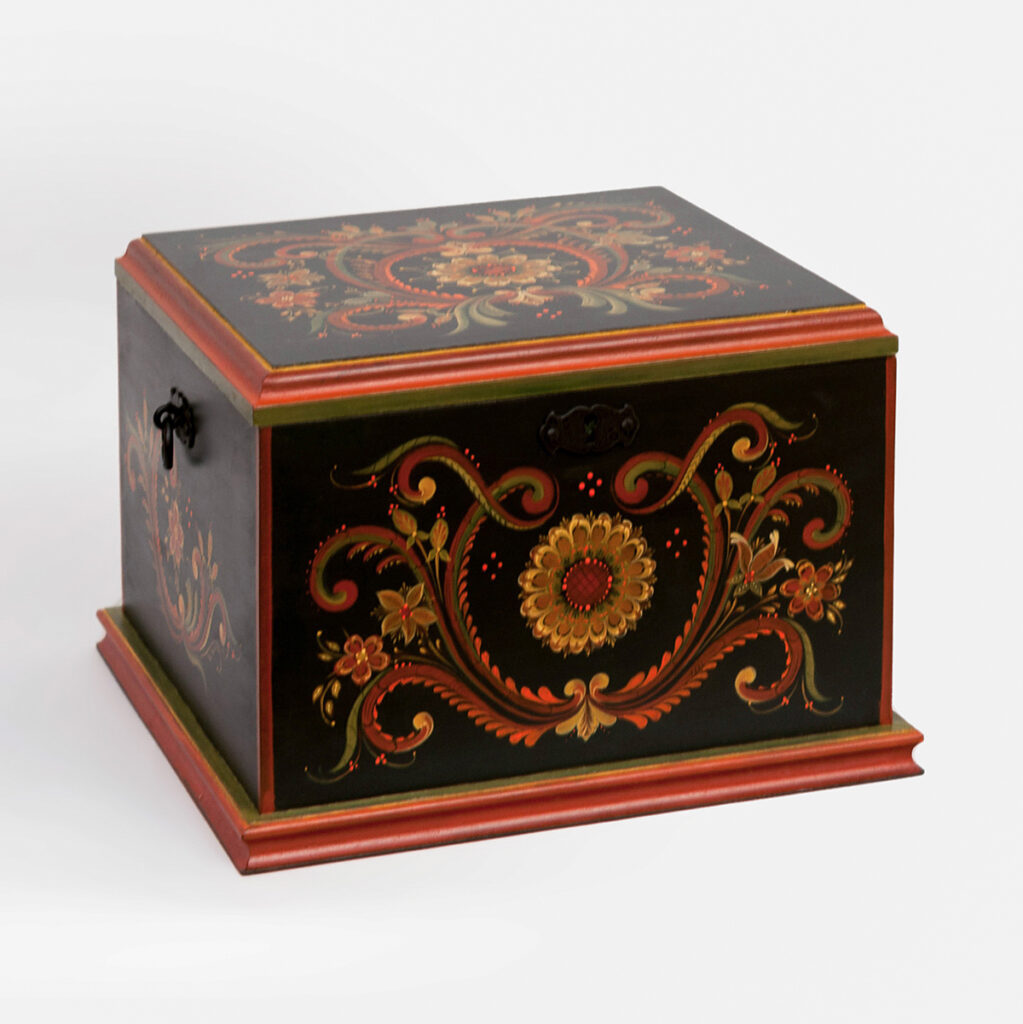 Nancy Odalen
Gold Medal In: Rosemaling, 2022
Ribbons
2016 Red Ribbon for a box in the Ryfylke/Old Rogaland style
2017 Blue Ribbon for a kransekake box in the Ryfylke style
2019 Red Ribbon for a small trunk in the Rogaland style
2022 White Ribbon for a box in the Ryfylke style
2022 White Ribbon for a tine in the Agder style
Artist Statement
I am drawn to rosemaling because it is a part of my heritage. I am the great-granddaughter of a sea captain and the granddaughter of an adventurous sailor who left Stavanger Norway and sailed around the world one and a half times before jumping ship in Australia and eventually ending up in the Midwest. I am the granddaughter of a woman who traveled to the Midwestern United States from Stavanger, Norway, by herself, at the age of 23.
The palette that I use in my rosemaling echo's the colors found in the shimmering clear coastal light of the West Coast of Norway; the red from the brick of the church where my grandparents were baptized and confirmed; and the ochre and the bright yellow of the sun as it reflects off the waters surrounding this city. The green in my painting is from the farmland of Rogaland, especially the Fosse farm where the Vikings lived and were buried. The freedom and movement found in my rosemaling mirrors the traditions of my ancestors and the adventure that both my grandparents embarked upon as they left Norway to find a new life.
My journey in the study of rosemaling began with my first Vesterheim rosemaling class in 2001. I have taken classes from instructors that have given generously of their time and talents. Most notably, I worked with Andrea Herkert (Vesterheim Gold Medalist) in two apprenticeships through the Wisconsin Art Board, and during the Covid shut down I had endless wonderful conversations with Karen Nelson (Vesterheim Gold Medalist) about rosemaling.
I am humbled to have received a Gold Medal in 2022 after earning ribbons on five pieces, including one Best in Show in 2017. My journey continues as I learn from the old and create designs that come from my soul. It is my true joy to share my passion, enthusiasm, and knowledge of rosemaling with others.