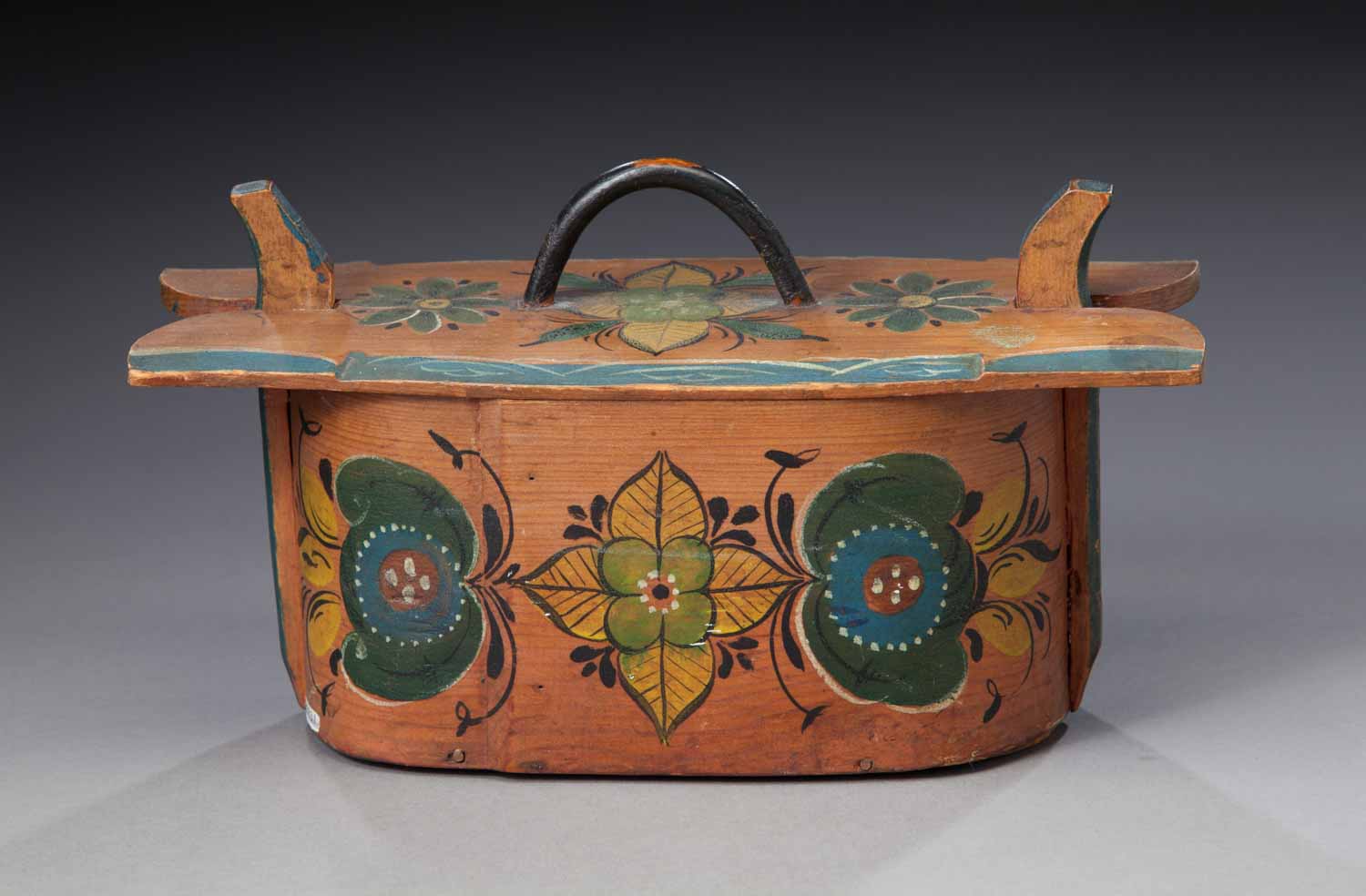 Bentwood Box
Date

1910-1930

Place of Origin

Norway

Creator

Unknown
Oval bentwood box (tine) with upright wooden posts attached to short ends onto which lid snaps. Small wooden pegs hold bentwood sides to oval flat base. Lid has arched wooden handle in center and is cut out on short ends where it is secured to box by posts. Both lid and one side of the box are painted with flowers or floral designs in yellow, green, blue, and black. Other side of box is painted with seven women in long blue skirts who are tugging on a white blanket or cloth.
Inscription: Efter Spaadom Skal Syv Qvinder Trættes om en mans bure Ao 1702
Translation: after profecy, seven women shall fight over a mans roar/as a husband
Purchased by donors' mother, Iva Lillian Stange Jensen, on one of her several trips to Norway where she visited relatives and collected genealogical information. Iva was born in rural Paxton (Wall Township), Illinois, one of five daughters of Gunnar Melindus Stange and Anna Isabella Johnson. Her grandparents were Norwegian immigrants who settled in that rural community. Iva left the farm and moved to Chicago at age 18, where she worked at Charles A. Stevens as a masseuse. She was active in the Edgebrook Community Church in Chicago and later became a member of Minnekirken Norwegian Lutheran Memorial Church in the Logan Square area of Chicago. Her membership in Minnekirken was the way that she celebrated her Norwegian heritage and maintained ties to the culture of Norway.
Materials

Wood

Dimensions

height: 5.25 inches; width: 9.25 inches; depth: 3.625 inches

Identifier / Source

2009.003.001 - Gift of Dennis R. Jensen in memory of Iva Lillian Stange Jensen