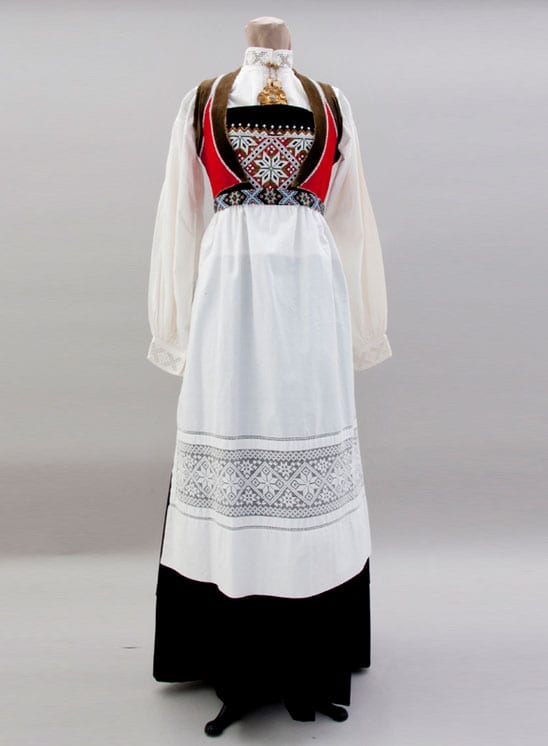 Dress
Date

1850-1880

Place of Origin

Voss, Hordaland, Norway

Creator

Kari Rhode Gjernes
The skirt of this bunad is made of tightly woven and highly polished black wool and has regular deep pleats at the waist. There is a band of twill weave reinforcement around the inner hem.
There is an attached bodice made of brushed red wool. The "V" shaped front opening is edged with green vlevet and a narrow band of white beads.
The breastplate is decorated with white, gold, green, and black beads in an eight-petal flower or star pattern on a background of red wool. There is a black velvet border across the top. All of this is couched to a heavy twill-woven wool in a natural color.
The canvas-backed belt has all-over beading of eight-petal flowers or stars and diamonds in multicolors. There are black velvet ribbon ties on each end.
The white cotton apron has a waist tie that runs through a turned under top hem. There is an insert band of filet lace in an eight-petal flower or star motif that is worked on square grid background.
The white cotton blouse is cut in one shaped piece which folds over at the neck and joins on the sides and underarms. It is open at the front, but has an attached panel of eyelet lace. There is also lace on the cuffs and around the neck.
There is also a matron's headdress made of a nearly square piece of bleached linen that has very fine Hardanger embroidery worked on one corner.
Materials

Wool, linen, cotton, glass

Identifier / Source

1986.035.001 - Gift of Mildred Hillestad