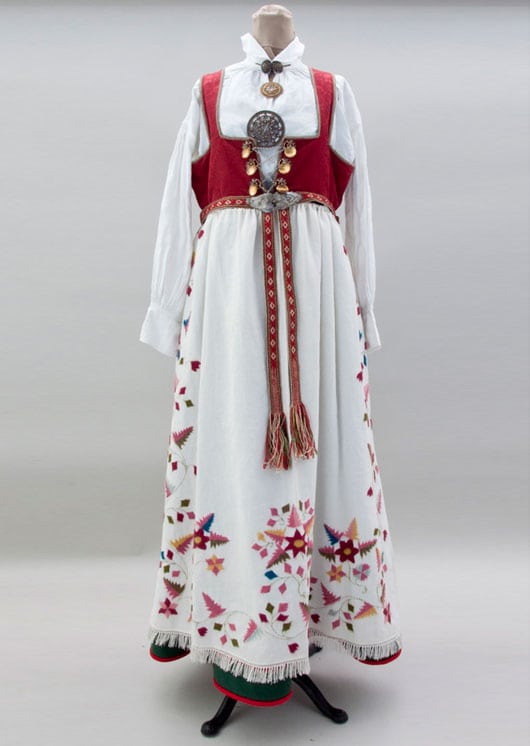 Dress
Date

1967

Place of Origin

Åmli, Aust-Agder, Norway

Creator

Husflid in southern Norway
This Aust-Agdar bunad (2003.024.001) dress has a dark red damask bodice with an attached black skirt. The bodice has a low square neckline in front and under the arms, with long suspenders which meet for a narrow back bodice with wide cut shoulder openings. The entire bodice is edged with a narrow pattern woven band. The bodice back edges and princess seaming are covered with an elegant pattern-woven gold ribbon that is tightly shirred at the neck and shoulder openings. Three pairs of large, silver domed open leaf designed buttons with gold bowl dangles, flank the front opening. The original chain, which would have linked the buttons, is no longer present. The attached ankle length skirt, of homespun black wool twill, has a bound waistline and three deep pleats on each side of front, and is shirred for fullness in the back. There are red and green bands around the hem.
The band-woven belt (2003.042.002) has a diamond pattern in red and white, with green lengthwise yarn along the borders.  Each end of the belt has four inches of fringe. The last three inches of the belt before the fringe are woven in a simpler twill weave.  The belt is fastened with two heart-shaped silver buckles which link with a hook and eye.
The jacket (2003.042.003) is of made of black wool, has long sleeves and a rolled collar. The front opening and cuffs are edged with green wool which is trimmed with red and yellow stitching.   There are two pairs of large triangular silver hook and eye closures.  Six silver shank buttons, and faux button holes, line the sides of the center opening.  There are also three silver buttons at each sleeve end.
The loose, peasant-style blouse (2003.042.004) has a slit upper front opening with rolled edges.  There is smocking at either side of neck opening and in the back for fullness. The shoulder yoke has a band of faggoting and diamond shapes are embroidered along the shoulder line.
The apron (2003.042.005) is made of hand-woven white linen that is rolled and hand-stitched on the side and bottom hems. There is a knotted net band, with cut fringe, across the bottom edge. Abstract leaf and vine shapes are embroidered down the sides and across the bottom.  There is a hand-made white cotton drawstring around the waist that has an added length of commercial cord on one side.
The dress was made in 1967 in Norway and worn by the donor at many occasions.
Materials

Wool, linen

Identifier / Source

2003.042.001-.005 - Gift of Grace Rikansrud