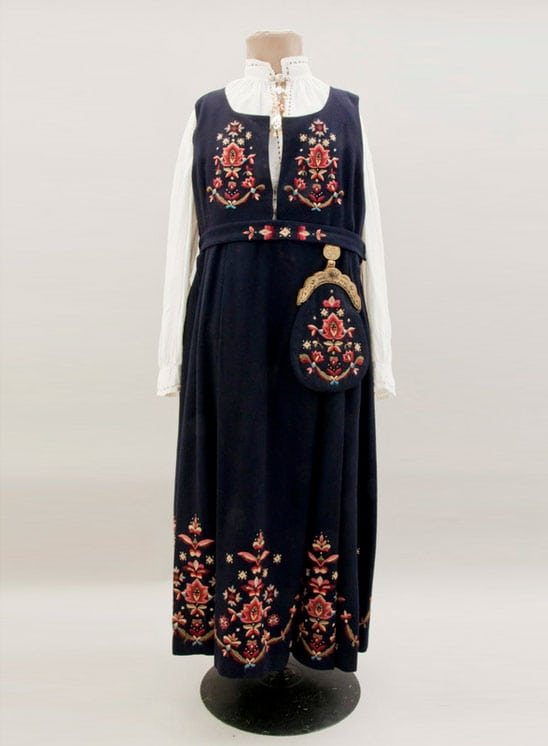 Dress
Date

1952

Place of Origin

Ørsta, Møre og Romsdal, Sunnmøre, Norway

Creator

Unknown
The dress consists of a dark blue wool skirt that attaches to a lined vest bodice with a scooped neck and V opening. Colorful floral embroidery decorates the chest and back. There are hook and eye front closures. The skirt has six pleats at the front waist and eight pleats at back. There is a hook and eye closure on the front left waist where the bodice meets the skirt. Colorful floral embroidery, approximately ten inches high, also encircles the hem. There is an attached self fabric belt with embroidery.
The pullover white linen shirt, with band collar, has drop shoulders and a V front. The cuffs, collar, and front are decorated with cutwork embroidery in white. There is also white floral embroidery on both shoulders. The cuffs have two holes for cufflinks.
The blue wool cap is gathered at the headband. which is decorated with five embroidered floral motifs on the front. The sides of the headband are flared and end in rounded points. The cap is lined with black fabric.
The oval shaped blue wool purse has large colorful floral embroidery on the front and is plain on the back. The pouch is sewn to a brass clasp and belt hook. The metal is decorated with an acanthus motif. The inside of the purse is lined and the inside clasp is inscribed: 1809 Ørsta 1948.
The bunad was worn and owned by the donor's mother, Hulda Unhjem Aas, who was born in 1909 in Ørsta, Norway. She married Ivar Asbjørn in 1938 and emigrated to the United States in 1947. Hulda's father arranged to have the bunad sewn for her while she was visiting Norway in the summer of 1952.
Materials

Wool, linen, brass

Identifier / Source

2004.036.001 - Gift of Berit Aus