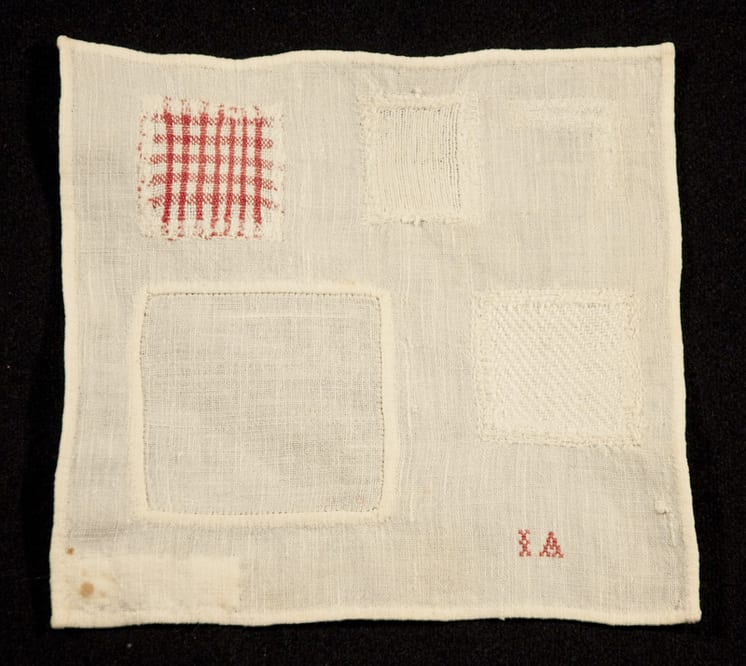 Sampler

Date

1862-1865

Place of Origin

Larvik, Vestfold, Norway

Creator

Mother and aunt of donor
This set of samplers, which includes two of each example, were made by the donor's mother (1865) and an aunt (1862) in Larvik, Norway, when each girl was 14, as part of required schoolwork.
1986.082.001.2 is an example of a variety patching techniques on a plain ground.
1986.082.001.3 is a miniature of a traditional shirt with long sleeves, a full straight line, and mandarin collar. The cuffs are gathered at the wrists, and there are full gathered and gusseted shoulder joins and shoulder yokes. There is a tucked bodice insert and gusseted side openings.
1986.082.001.4 is a miniature knitted sock with shaped foot and ribbed top.
Materials

Cotton

Dimensions

1986.082.001.2: length 6 inches, width, 6 inches; 1986.082.001.3: length, 15 inches; width, 23 inches; 1986.082.001.4: length, 7.5 inches; width, 2 inches.

Identifier / Source

1986.082.001 - Gift of Mabel Thorsen