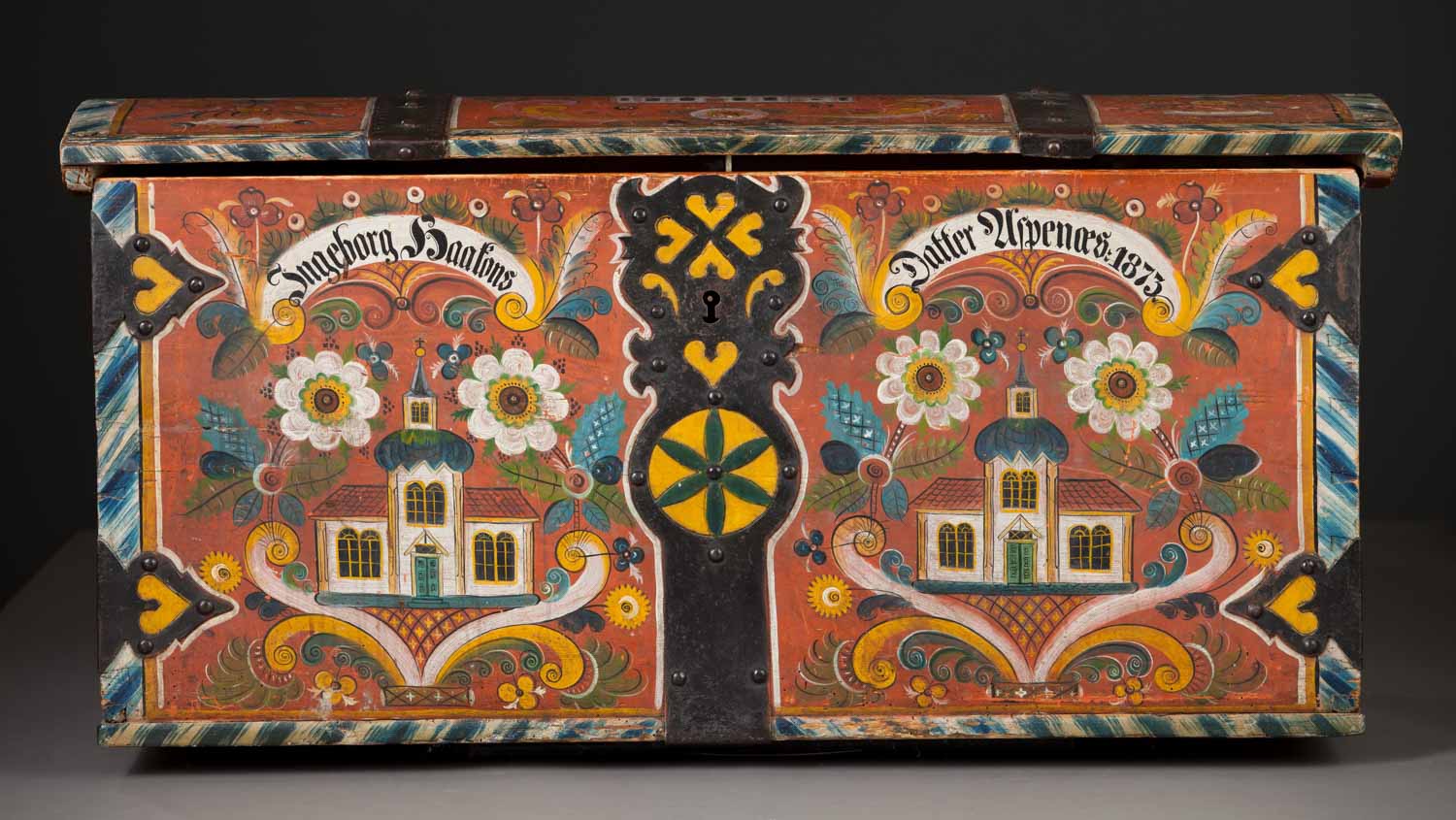 Trunk
Date

1873

Place of Origin

Os, Hordaland, Norway

Creator

Annanias Midthus Tveit
Trunk with Os style rosemaling. Rectangular trunk with hinged curved lid and decorative ironwork with hearts and rosette on center front and hearts on corners. Painted with orange background and features two buildings with onion shaped towers on front face surrounded by white, yellow, blue, and green Os style flowers. Blue and white chevron design painted on corners. Lid has two iron bands which divide surface into three panels. Center panel has painting of white church surrounded by flowers. Sides have flowers painted around the iron handles. Inside of lid is painted with blue lattice design inside of which are painted pink and green flowers. Inside on right side is a small box with hinged lid that is also painted.
Inscription: Ingeborg Haakons Datter Aspenæs 1873 (front), Ingeborg Haakons Datter Aspenæs Aar 1873 (lid interior)
Painted by Annanias Midthus Tveit (1847-1924), who is considered to be the foremost representative of the pure Os style. He was an apprentice to his father, Nils Midthus. He mostly painted for farmers in the area. When he was 25 years old, he purchased a neighboring farm, Tveit, and established his workshop there and ran a rose painting school.
Materials

Wood, iron

Dimensions

height: 19.125 inches; width: 43.25 inches; depth: 21.125 inches

Identifier / Source

2014.015.001 - Museum purchase with funds from Amy Ahrens, Margaret Andrews, Louise Bath, Mary Bennett, John and Veronna Capone, Norma Carlson, Jenna DiSalvo, Barbara Doran, Marilyn Edlund, Marlene Evenson, Mariyn Fahrney, Sandra Fleming, Terry Flynn, Susan Frechette, Patricia and James Goke, Ruth and Dennis Green, Karen Hammarberg, Judith Mithun Hartnett, Cynthia Hayashi, Andrea Herkert, Ronald E. Hovda, Helen Howe, Anita Hubanks, Jerry Johnson, Jane Kemp, Arlene Knudsen, Karen Aamot Lowman, Kate Martinson, Barbara Morgan, Nancy and Fred Morgan, Linda Nelson, Nisse Rosemalers, Jan Norsetter, Janice Northey, Roger and Nancy Odalen, Clarence and Louise Olson, Diana Olson, Donald G. Oss, Loretta Paulman, Ardys Pfundheller, Cheryl Schumacher, Mary Schwartzlow, Bonnie Selje and Dean Selje, Naoko Seto, Kelly and Kim Sime, Eugene R. and Sandra K. Somdahl, Sons of Norway Valdres Lodge #1-503, Sally E. Stocking, Sonija Straavaldsen, Shannon Suddeth, Karen Syens, Terrace Mill Foundation Rosemaling Assn., Edith and Roland Thorstensson, Patty Tofsland, Norma Wangsness, Western Rosemalers Assn., Dawnine Wheeler, Wisconsin State Rosemaling Assn.